Puzzles
If you are looking for something that will entertain the whole family, puzzles are the way to go.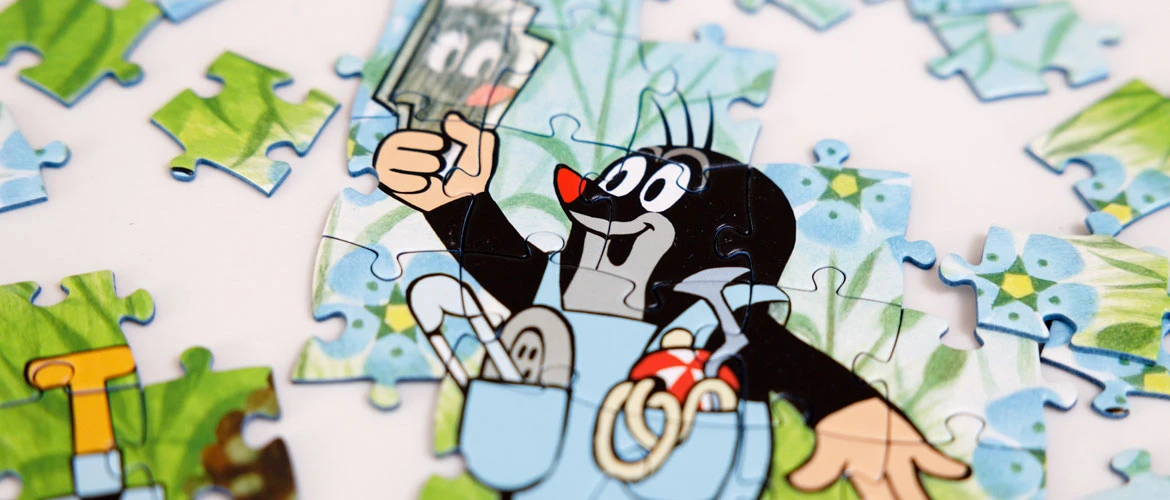 This all-round beneficial hobby also exercises the brain and promotes mental and psychological balance.  
Putting puzzles together improves your memory and visual-spatial orientation. According to medical studies, this activity even delays dementia and Alzheimer's disease.  But it also relieves stress and lifts your spirit. Putting puzzles together has been shown to increase dopamine production in the body, bringing a sense of happiness and satisfaction. Perhaps that is why puzzles are for many people a great active form of relaxation.   
Range of motifs, sizes and number of pieces
We produce puzzles of many sizes and numbers of pieces. Of course, we also offer a wide range of motifs (pictures). 
The youngest children will enjoy easy puzzles from 2 to 5 pieces with fairy tale motifs. Putting puzzles together encourages children's motor skills, imagination, spatial orientation and distinguishing abilities. 
Older children will be delighted by puzzles of various levels of difficulty from 12 to 300 pieces with popular motifs according to the latest trends. 
The product portfolio also includes more demanding, large-format puzzles that will be appreciated by all family members. These contain between 500 and 6000 pieces (for true enthusiasts). 
We also produce special puzzle series. Our offer includes panoramic puzzles in portrait and landscape formats, illuminated puzzles with a neon layer, the so-called secret puzzles with hidden symbols, and the popular Relax XL series with larger pieces and original designs.
We distribute our puzzles all over the world. 
We place emphasis on quality and local production. 
All puzzles with the Dino brand (and also customized puzzles) come from our own production. Everything is produced in the Czech Republic in our two production plants specialised in cardboard products, located at Mnichovo Hradiště and Lomnice nad Popelkou.
In the production of our goods, we pay attention to the quality of materials and production processes, relying on many years of experience. We work with modern technologies and quality machines such as hydraulic presses or laser quality control.
Of course, we also place emphasis on the design of the packaging and the choice of motifs, which is often crucial for the customer.
Sustainability
In our production we also think about the environment and sustainability. We use recycled materials, non-toxic adhesives and other environmentally friendly raw materials to produce our puzzles. 
All our puzzles hold the "Safe and Quality Toy" certificate.
See all the puzzles from our assortment.

Customized production - puzzles
Are you looking for an original gift for your clients and would you like to associate the popular puzzles with your brand?  
We can make puzzles for you from 500 units (meaning products, not pieces), with your own motif and box design. 
For more information click here.
Business cooperation
If you want to include our Dino puzzles in your sales, ask for the terms of business cooperation directly at export@dinotoys.cz.