About Dino
Read about our history, from our founding until today. We invite you to discover our story, our most successful products and our company values.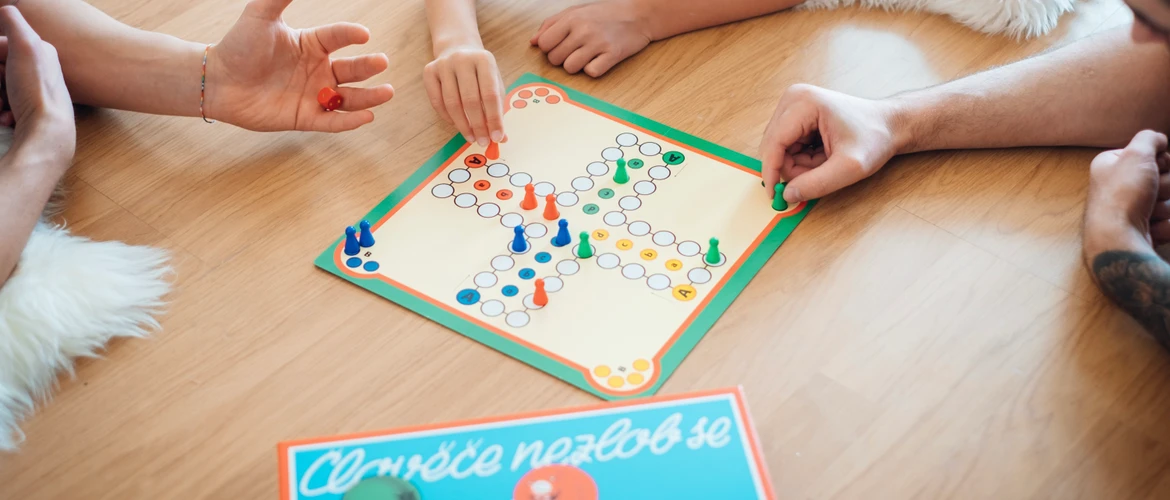 Dino so much fun for 30 years!
Dino is the largest Czech manufacturer of board games, puzzles, cards, wooden picture cubes and other toy assortment. For almost thirty years it has been celebrating success with board games such as Betting on Horses, Ludo, From Fairy Tale to Fairy Tale or the legendary plastic truck Tatra 148. 
In addition to spending time together, the fun for children and adults alike also brings development of motor and thinking skills, spirit and mind. 
We strive to co-create a better world, full of joy and imagination.
How it all started
Dino, a Czech family company, was founded in 1993 by Ladislav Mareš, a visionary, games and horses lover and the father-in-law of today's executive director Jan Šlemín. Before the Velvet Revolution, Mr Mareš worked in a printing house in Jablonec nad Nisou, where he became familiar with printing technology as well as working with cardboard. As a creative person, he wanted to enrich these activities somehow, so he came up with the production of board games. 
At that time, titles such as The Marshal and the Spy, The Phantom of Old Prague, as well as Betting on Horses were created, which gradually became an absolute phenomenon and remain so until today.
Dino as part of the household
Our products belong to the traditional equipment of Czech households. Most of us probably have one of our evergreens at home, such as Ludo, Kris Kros, Kingdom of Games or the legendary Betting on Horses. These have been produced in several variations and extended editions since the company was founded. "Betting on Horses" has sold more than 2,500,000 units. 
Games with movie licenses such as Harry Potter, Frozen or other Walt Disney heroes, are also very popular today and are of course not missing in our assortment.
A safe and quality toy, passed down in families for generations
From the very beginning, Dino has carefully monitored the quality of its products, which comply with strict European norms and standards. For example, the company holds the award "Safe and Quality Czech Toy". 
Our own local production, based on many years of experience and quality materials, is the foundation of our business. In addition to material quality, we place emphasis on the design of the product itself.
Every year we come up with a range of new products which reflect trends in the world of games, design and new material solutions, and at the same time we maintain our traditional products which has been manufactured by us for generations.
Our philosophy
We believe that responsible and transparent business has a future. Therefore, from the very beginning Dino has built on values such as quality, recyclable materials, local production and craftsmanship. The entire life cycle of our product (from idea to sale) takes place here, in the Czech Republic, in Czech heads, in Czech hands. 
Our company is also distinguished by the fact that we support Czech authors and illustrators. Every year we publish at least one original game.
Our long-term vision is to bring positivity, creativity, inspiration and joy to all homes.
We are growing
Dino is constantly growing. The production itself takes place in several production plants and manufactories in Central and North Bohemia.
The company currently employs more than 80 permanent employees. In order to meet the demand for Dino products and the products of our key partners, we continuously strengthen our production capacity, modern technology and innovation. 
However, we honour tradition as well as our company's heritage. Despite the constant development, Dino is still a family-run company, already for three generations.
Charity
We also support non-profit projects and charity organizations such as sheltered workshops or community centres. This is a matter of course for us. We do this either through direct support or by developing and selling board games that support specific charities.
First among Czech producers
In addition to its own products, Dino is also an exclusive distributor of selected foreign games and toys. Particularly from European producers with whom the company maintains long-term and strong relationships. 
Our product portfolio also includes licensed products, for example based on Zdeněk Miler's popular Little Mole, the legendary truck Tatra 148 from Kopřivnice, selected Disney characters, such as Frozen, or Czech Television and TV Prima programmes.