Board and other party games
Board games are the business of our heart as well as our mission. For 30 years, Dino Toys has been producing entertaining board and card games of all kinds.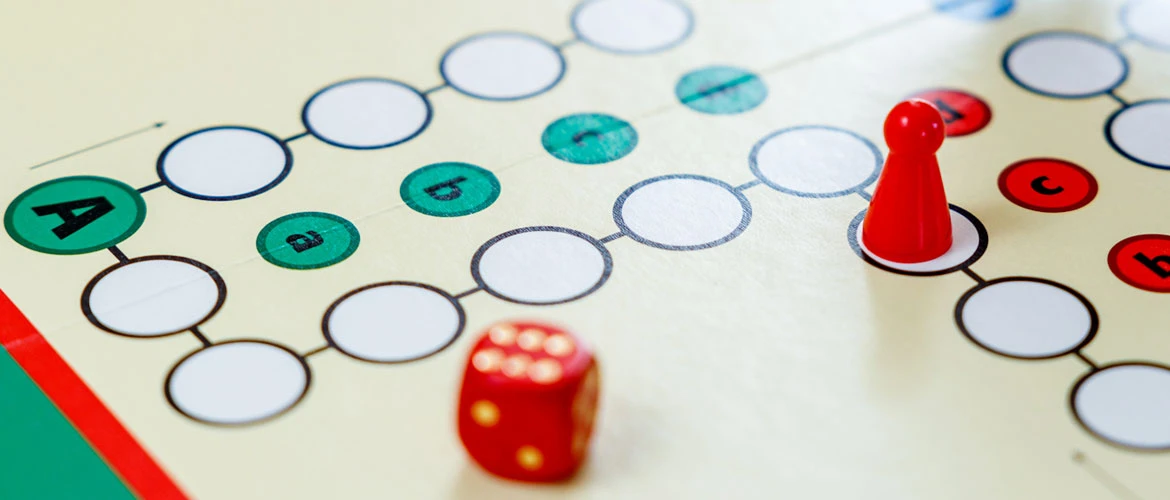 Board and other party games
Our portfolio of games is very broad. Our assortment includes card games, observation and travel games, large family games, more complex strategy games, as well as knowledge, quiz and party games. Exit games for home have also been a big hit in recent years.
Games recorded in history
It all started with a truly revolutionary game by Ladislav Mareš, the founder of Dino, which is the flagship product of Dino Toys until today. We are talking about the legendary game of Betting on Horses, which has already been enjoying fame and popularity for several generations.
Since the release of this iconic game, hundreds of other game titles have been created under the Dino brand. The most famous of them is probably Ludo, which every person living in the Czech Republic has probably played at least once. Other evergreens that are inseparably linked to Dino include the verbal Kris Kros, From Fairy Tale to Fairy Tale and Trucking in Europe.
But Dino keeps up with the times and every year brings new, modern board games to the Czech market. These include some foreign titles that are localized into Czech as well as the games of purely Czech origin, which we handle from the idea up to the finished product.
Our own games of Czech origin
We are one of the few Czech publishers with own development department and we are very proud of it. Therefore we can develop many game titles by ourselves.
We cooperate with Czech authors and artists and support the Czech art production. Every year we come up with several new titles of a purely Czech origin, which are often successful also at foreign markets.
Game as a form of personal development and prevention of so-called digital dementia
Many people are not aware of it, but social games have beneficial effects on health and personal development. Each game develops different skills. Depending on the type and focus, the game can educate, promote strategic thinking, natural intelligence as well as logic, and deepen imagination and creativity. In general, games teach discipline, independent decision-making and planning.
Games give us more than we think. They are amusing as well as beneficial. They also help us maintain social ties and communication with our family and friends.
Last but not least, they are a suitable compensation for the time spent on smartphones and tablets, and according to many experts they naturally prevent the so-called digital dementia.
We focus on quality and the environment
When producing games, we place emphasis on the quality of the product itself, its content, artwork and technical design. All games with the Dino brand hold the "Safe and Quality Toy" certificate.
Most of the games come from local Czech production, where we rely on tradition and long experience. We also think about the environment and sustainability in our production. We use recycled materials, wooden components, non-hazardous paints and adhesives.

Customized games
Would you like to associate board games with your brand? Are you looking for an original gift for your clients? Or do you want to have your own original game made? For more information click here.
If you want to include our Dino board games in your sales, ask for the terms of business cooperation directly at export@dinotoys.cz.
Collaboration
Are you an author of a game and would you like to introduce it to us or cooperate with us more closely? Contact our development department at
vyvoj@dinotoys.cz
.